In the machine tool industry, spindles are a critical component used to shape materials through the use of high-speed rotation and pressure. As modern machinery advances, machining equipment is required to be faster, more precise, and more durable than ever before. Bearings are crucial parts that direct and enhance spindle movement. The use of high quality bearings, improves the efficiency and reliability of machine tool spindles, thereby increasing production and reducing wear and tear on machinery.

The Demand for Bearings in the Machine Tool Industry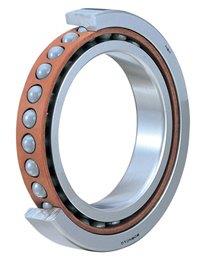 With the advent of CNC technology, machine tools are expected to be more accurate, efficient, and reliable than ever. To remain competitive, machining companies are investing in high quality bearings that ensure top equipment performance. The overall purpose of a spindle bearing is to enhance and streamline spindle movement to ensure optimal machine speed and accuracy. Bearings affect the speed, rotation, vibration, precision, and temperature of the machine tool, which in turn alters the quality of the final product.
Bearings are typically composed of a ring or series of rings with a ball or other rolling element that streamlines the motion of the spindle in the desired direction. Depending on the equipment and desired motion, bearings can be engineered to facilitate the movement of spindles on both lateral and radial axes. They must be able to withstand the load pressure, temperature, and high speed of machine tool spindles.
4 Types of Bearings for Machine Tool Applications
There are four separate categories for bearings used in machine tool spindles. Each bearing design has characteristics that make it useful for certain applications, and it's essential to know how each works so you choose the best bearing for your equipment.
Angular-Contact Ball Bearings
Angular-contact ball bearings are the most common spindle bearing. They are rolling bearings and consist of one or more rows of rolling balls between concentric grooved rings. They are useful for both radial and axial loads in one direction, and their axial load carrying capacity is determined by the angle at which the load contacts the bearing. The greater the angle, the higher the load capacity.
Radial or Deep-Groove Bearings
Popular in industrial machinery, radial bearings are rolling bearings primarily used for load bearing on the radial axis. Like angular-contact bearings, they are composed of an inner and outer ring with rolling balls between them; however, radial bearings can carry loads in both axial directions, making them more versatile than their angular-contact counterparts.
Roller Bearings
Roller bearings enhance motion through the use of rolling cylinders instead of balls. They are used to support primarily radial loads and axial loads parallel to the axis in one direction. They are useful in moderate to high-speed applications to reduce friction and enhance equipment speeds.
Thrust Ball Bearings
Engineered to specifically support heavy, high precision thrust loads, thrust ball bearings offer exceptionally precise axial support parallel to the drive shaft, but little to no radial support. The rolling element may be a ball, roller, or needle, depending on the application. They are particularly useful for applications such as propeller engines, which support free and easy movement of heavy loads parallel to the shaft.
Superior Ball Bearings From Emerson Bearing
As the market continues to demand higher machine tool production with greater efficiency and precision, bearings are evolving to meet more stringent industry needs. With more than 50 years of experience, Emerson Bearing is proud to offer exceptional bearing solutions for customers around the world. We understand that each system has different requirements, and our highly knowledgeable staff is dedicated to helping our customers find the perfect bearing for their application.
We provide the most advanced steel alloys and sealed bearings available on the market for improved performance, durability, and resistance for even the most rigorous applications and harshest environments. Our broad selection of bearings includes cutting edge products from Nachi, Barden, GMN, TPI, FAG, and NSK. For more information on our bearing products and solutions for the machining industry, contact us today!