Many industries focus on food. For example, the agricultural industry handles growing, harvesting, and preparing fruits and vegetables for distribution, while the foodservice industry handles preparing and serving meals at restaurants. Both of these industries are distinct from the food processing and packaging industry, which deals with food after it has been processed by the agricultural facilities but before it is distributed to foodservice facilities. Basically, any food that enters a production facility is within the domain of the food processing and packaging industry.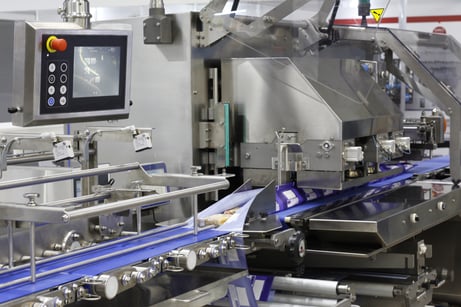 Thanks to rising populations and increasing incomes, the demand for food has grown significantly over the years. Meeting this demand requires investing in food processing and packaging equipment that can improve efficiency, lower costs, and reduce downtime while meeting all FDA and sanitary requirements. Choosing the right bearings is essential to achieving these goals.
What Bearings Are Commonly Used in This Industry?
While ball bearings are found in the equipment of many industries, they play a particularly vital role in the devices and systems of the food and beverage industry. They are generally made from food-grade stainless steel to ensure they are safe for operations where contact with consumable goods is expected.
Some of the most commonly used types of stainless steel ball bearings in the food and beverage industry include:
Unmounted Bearings
Thermoplastic and Stainless Housings
Washdown Bearings
Specialty Bearings
Typical components and systems containing them include FDA approved IP69K inserts and stand-off units, IGUS thermoplastic bushings, cam followers, mounted units, roller chains, and V-belts.
Why Use Solid Lubricant for These Bearings?
When using stainless steel bearings, it is important to choose an appropriate lubricant application. Otherwise, the bearings will not have the appropriate attributes to perform in the environment without potentially damaging the equipment or contaminating the products.
Solid lubricants are recommended for stainless steel bearings used in food processing and packaging equipment. These lubricants consist of lubricating grease and supermolecular weight polyethylene. This composition results in a compound that is similar to ordinary grease before it is packed into the bearing. However, once it is heated and cooled, it solidifies into a solid resin-like material.
There are many advantages to using solid lubricants over liquid lubricants, such as:
Longer lubricating life. Solid lubricants do not emulsify or leak when exposed to water. As a result, it has a longer lubricating life, which can result in extended life cycles for machinery.
Greater resistance to leakage. Solid lubricants do not leak, which helps keep them free of dirt and debris. It also helps keep the machinery and surrounding area clean.
Lower risk of contamination. Solid lubricants ensure bearings remain lubricated, which reduces the risk of empty pockets forming and filling with contaminants.
One example of a good solid lubricant is solid grease type P-06. It is made from a food-grade lubricating grease that complies with the H-1 standards set by the USDA and a supermolecular weight polyethylene component that meets FDA standards.
The Emerson Bearing Solution
Need bearings for your food processing and packaging operations? Turn to the experts at Emerson Bearing! We've provided industry-leading ball and roller bearings for over 50 years. This extensive experience, combined with our worldwide supply network and knowledgeable customer service team, enables us to provide bearing solutions to customers across the globe. Our bearings are used by various OEMs in a wide range of food processing and packaging equipment.
For more information about our bearing solutions for the food processing and packaging industry, contact us today. To discuss your bearing requirements with one of our team members, request a quote. Whether you need help finding the right part or improving your system, we can meet your needs!
Your blog post content here…