Cam followers and cam follower bearings are essential components in many industrial operations involving conveyors or process transfer lines. Used in a wide range of industries including power generation, metal processing, packaging, food processing, transportation, automation, and recreation, cam followers are able to be easily mounted and are well-suited for many cam or track roller applications with moderate loads and shock.
Proper use of cam follower bearings helps ensure optimized performance and longevity. Developed to replace the standard bearing and bolt configuration, this type of roller bearing is designed to be more efficient, more reliable, and considerably easier to maintain than their predecessors. At Emerson Bearing, we have the expertise to walk you through the process of choosing the right bearings for your specific needs.
So What are Cam Follower Bearings?
Cam follower bearings are a specialized roller bearing or needle bearing designed to follow cams or tracks in a wide range of motion systems. As a type of anti-friction needle bearing, their construction consists of a heavier outer ring that includes needle rollers, which allow for cam followers to work smoothly in a given application. The bearings are also sealed to help prevent contamination and retain lubrication. Cam follower bearings offer high dynamic and static load carrying capabilities in a compact design.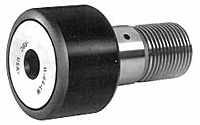 When choosing a cam follower, there are many options to consider based on what sort of job they'll be used for and the specific weights and speeds required. The two major types are yoke rollers and stud rollers. Yoke rollers are typically used in applications with heavier overall loads, where standard conditions exceed the capabilities of stud type cam followers. They do require clevis or shaft-mounted installation, which provides support on both sides of the cam follower and permits use of a high-strength pin.
In contrast, the other popular style of cam follower, the stud style, allows for the convenience of a threaded stud for mounting and relubrication. Both the stud and yoke style are available in standard or heavy-duty varieties. They also are available with the added option of crowned outer rings, which compensate for small amounts of misalignment between the cam follower and the track or cam, preventing corner loading of the roller and reducing thrust load on the bearing. For both stud and yoke rollers, the roller bearing style offers the same envelope dimensions as older needle roller designs, but allow for higher speeds and the ability to handle axial loads and greater misalignment. Most importantly, they are extremely durable while remaining easy to maintain. Each of these styles are available in stainless steel and with 'solid blue' where traditional chrome is not optimum.
Learn More
Whatever the needs of your company, Emerson Bearing's engineers can guide you through each of the various specifications and capabilities of the various products available in order to find the perfect design and material for your purpose. Emerson Bearing is the go-to source for cam follower bearings for some of the industry's most trusted, well-known brands, including Durbal, Carter, Hub City, Koyo, and RBC.
Contact us today to learn more about how we can help supply high-quality, reliable cam follower bearings for your next project.