Bearings play a critical role in many industrial devices and equipment. While bearing failure is unavoidable, it is possible to minimize the negative impact of failure on company operations. The key is understanding what causes a bearing to fail and how to prevent it from causing premature failure.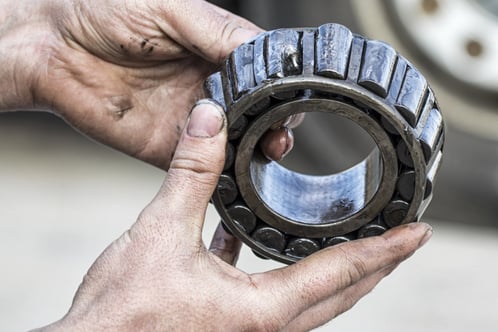 What Are the Common Causes of Bearing Failure?
There are many reasons why bearing failure may occur. Some of the most common are:
Improper Lubrication.

The majority of bearing failures occur because of improper lubrication. Lubrication failure can occur if the wrong lubricant is used, if not enough lubricant is applied, or if the bearing has been exposed to excessive temperatures that have caused the lubricant to degrade.

Corrosion & Contamination.

Contaminants such as dirt, sand, water, and chemical compounds can cause numerous issues in bearing assemblies. For example, they can degrade the lubricant or corrode/erode bearing surfaces, all of which can lead to premature failure.

While some bearings can handle minor misalignment between the shaft and bearing housing, not all of them can. Typical causes of misalignment include bent shafts, contaminated components, and improperly positioned shafts and locking nuts. These issues can lead to uneven load distribution and excessive vibration generation, which can further hasten failure.

Fatigue—also referred to as spalling—refers to the fracture of bearing surfaces and the subsequent breaking off of pieces of material. As fatigue spreads, it will ultimately lead to failure.
How Do I Avoid Premature Bearing Failure?
Knowing why bearing failure occurs makes it easier for industry professionals to implement appropriate measures to avoid the cause(s). Some of the steps one can take to avoid premature failure include:
Selecting the Right Bearing.

The bearing should be the right size and offer the correct load capacity for the machine.

Installing the Bearing Properly.

The proper tools should be used during the bearing installation process. Additionally, the bearing should be installed as per the manufacturer's instructions. Once it is installed, it is essential to verify that all of the components are properly aligned and positioned.

Lubricating the Bearing According to Manufacturer's Guidelines.

Applying lubrication as per manufacturer guidelines helps ensure the bearing operates and performs as intended throughout its service life. It is important to use the right type of lubricant and apply the proper amount.
Why Choose Emerson for Your Bearing Needs?
Since bearings are essential components of numerous industrial devices and systems, it is vital to select and maintain them properly. Otherwise, a facility risks unexpected failure, which can lead to unplanned downtime and, consequently, productivity and profit loss. However, as bearing applications vary from company to company, it can be difficult to select the right product. Fortunately, the experts at Emerson Bearing are here to help.
At Emerson Bearing, our team is fully committed to ensuring each customer receives the right bearing at the right price for their needs. We provide assistance with the following:
Creating a delivery schedule and pricing that suits your needs

Finding the ideal bearing for your requirements and restrictions

Using our inventory or Worldwide Sourcing Network to source the right solution
In addition to our one-stop shopping experience, bearing detective capabilities, and extensive online product catalog, you can benefit from our OEM and MRO expertise, OEM parts interchange services, same-day shipping options, and 24/7 customer support.
To learn more about our bearing product and service offerings, contact us today. To discuss your application requirements with one of our experts, request a quote.