Making beer is no small feat. It is both an art and a science that requires precise measurements
and the right equipment to create and re-create beers that consumers will love. What was once a
task reserved for giant alcoholic beverage manufacturers has become a labor of love for many
small brewers who created a craft beer movement across the country. Today's independent
brewers rely on a variety of other industries to get high-quality ingredients, machines, bottles, and more.
What is Craft Beer?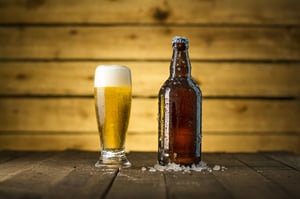 Craft beer is created by a small, independent brewer, typically unaffiliated with a large alcohol company. These craft brewers produce less than six million barrels of beer per year, which accounts for about 3% of the yearly beer sales in the United States. Brewing craft beer requires a TTB Brewer's Notice, which is required by the government for anyone who brews beer with the intention of selling it.
Small-batch brewing is a proud tradition around the world. On U.S. soil, the first brewery popped up in 1612 in what was then called New Amsterdam (present day New York), long before the United States as an independent nation was even conceived of. In recent years, craft breweries have opened all over the country, and today most Americans live within 10 miles of one.
History of Craft Beer in the US
Although we think of the craft beer movement as being fairly recent, it can be traced back to the 1960s and 1970s. As regional breweries were closing or consolidating, many people took to home brewing—a tradition that goes back to Prohibition. By the 1980s, some enterprising home brewers wanted to offer their creations to the public, and craft beer put itself on the map.
Since then, there's been incredible growth in the market. Consumers enjoy the taste and the novelty of craft brews combined with the sense of connection with their own local breweries. Tourist boards promote brewery tours, and beer-loving travelers take pride in trying as many new local brews as they can. As of 2010, there were 1,813 active breweries in the United States. By 2018, that number topped 7,000.
Craft Beer in New England
As of last year, there were more than 545 craft breweries in New England alone, with another 75 pending. Vermont has the most breweries per capita of any state in the union, and Maine and New Hampshire both show up in the top 10. Massachusetts came in 25th, which was enough for it to be considered a "craft beer enthusiast state".
Those breweries serve a lot of people who love beer. Vermont, Maine, and New Hampshire are also in the top 10 states whose residents consume the most beer per year—New Hampshire tops that list.
One of the most notable moments for craft beer in New England happened in 1995: The Boston Beer Company went public. They advertised on the popular Samuel Adams Boston Lager six-packs that you could buy shares at $15—share that are today worth more than $160 thanks to The Boston Beer Company's continued success, expanding to include ciders, a broad variety of flavors, other brands, and more.
Emerson Bearing is Here to Serve Brewers
Going from the hops to the bottle is a process, and it requires a lot of moving parts along the way. That's where Emerson Bearing comes in. We're proud to serve craft brewers via our Brewer's Division, supplying parts for mixing, bottling and canning, seaming, labeling, and other conveyance processes. We also carry products like these:
Adhesives and sealants
Cam followers
Control bearings
Needle roller bearings
Roller chains
Rod ends
Stainless steel mounted units
Thrust bearings
We understand what brewers need, and that brewing the perfect bottle is about pride in creative ownership and service to the people who choose your brews to toast with their friends and family. To that end, having reliable, cost-efficient parts and equipment is essential.
Contact us to learn more about our Brewer's Division and how Emerson Bearing can serve your craft brewery.