Despite more printed products going digital, the paper industry remains a constant. In just the United States, the paper printing and conversion industry is worth $400 million or more. Paper conversion is the procedure in which we convert raw paper materials into the products we use every day. Paper has nearly endless applications in the residential, commercial, and industrial sectors. To meet this high demand, we need efficient processes and equipment. Technology in the paper conversion industry relies on bearings as they allow companies to achieve precision, accuracy, and uninterrupted performance.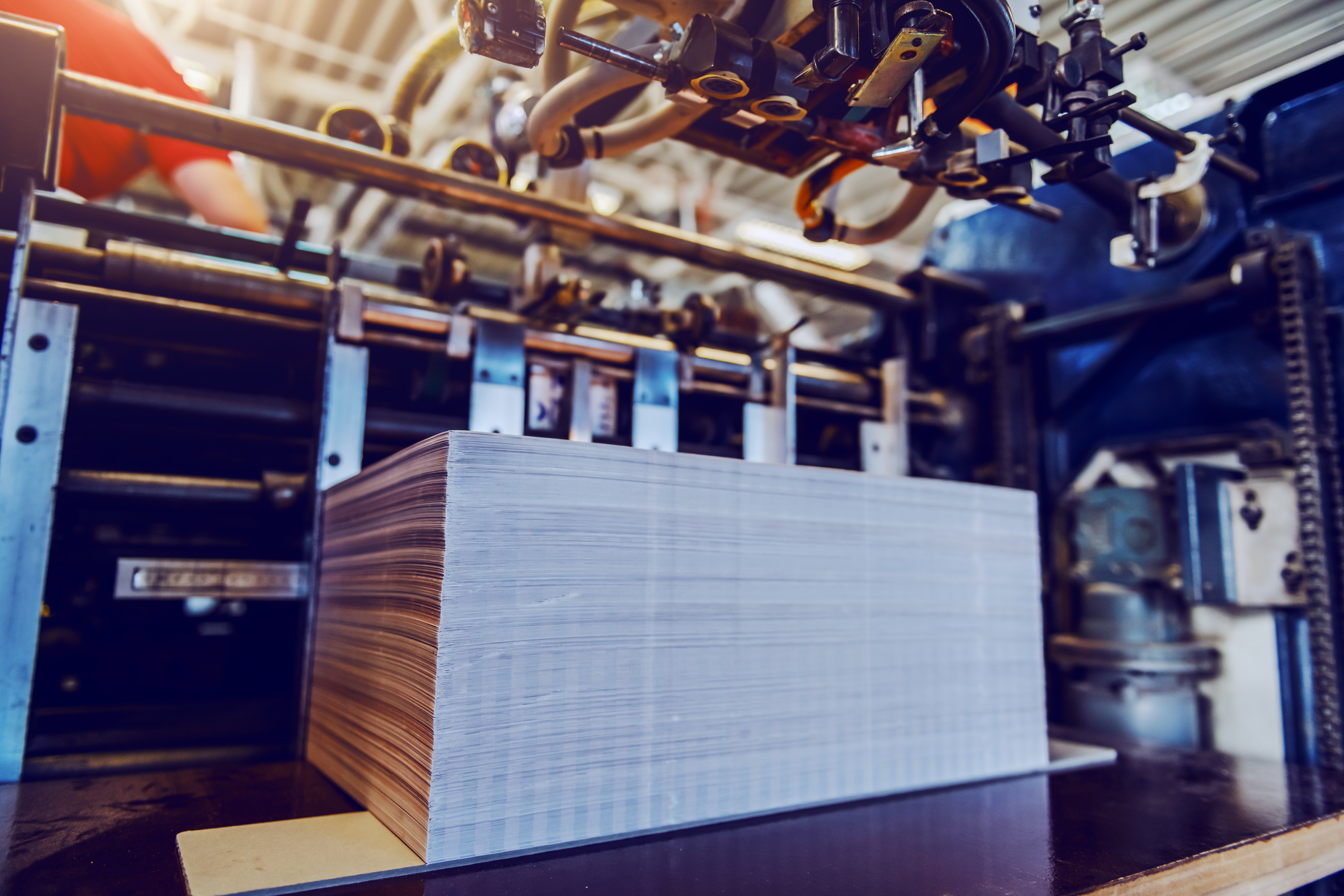 What Is Paper Converting?
The term paper conversion applies to the post-press systems that turn a flat sheet of paper into a multi-dimensional product of a particular size and shape. Such products might be something as simple as an envelope or newspaper for use in your home. Also, paperboard or a jigsaw-cut laminated sheet on a plastic substrate can become an assembled box or point-of-purchase display carton for industrial or commercial use. Generally, paper conversion consists of the following stages:
Gathering fibers of raw material
Melting raw fibers to create wood pulp
Processing the pulp through bleaching, straining, and flattening steps
Drying the pulp to generate a master continuous paper roll
Converting that roll into smaller sizes and shapes, cut to meet particular specifications
The most common cutting method in the conversion process is usually the slitter or rewinder. Massive unwound paper rolls go through numerous blades to produce smaller paper sizes that will fit a given printing press. The finished paper then rewinds back onto rolls of the requested size. Another cutting method of paper conversion involves a paper roll saw, which slices the master paper roll without unwinding it first.
What Are Some Common Bearing Solutions in Paper Printing and Converting?
Bearings play an integral role in paper conversion systems. They facilitate the cutting, rolling, and unrolling of paper material. For use in varying applications, there are different types of bearings to meet unique production requirements. Slitters and rewinders need high-speed ball bearings and high-accuracy linear motion bearings for improved running precision. On each side, our free running pillow blocks and insert bearings have modified slingers and seals. This design generates a low initial torque at start-up, along with efficient sealing that holds even in applications with high-temperature environments. Systems use these bearings when precision is mandatory as they allow for high levels of repeatability. Also, in the last step of paper printing, print rollers utilize bearing supports with high accuracy and wear resistance. These are integral to ensuring the impression cylinder is fully functional with low-clearance support and firm function to ensure minimal errors like runout. An NAO-style needle bearing that has offset cage packets is a bearing that print rollers commonly use in today's printing processes. Cam followers as well as yoke and needle rollers are frequently part of roller drives, presses, and gripper shaft controls. Emerson Bearing Company provides many bearing solutions for paper conversion and printing processes. These include:
Cylindrical roller bearings
Free running bearings
Mounted units
One-way clutch bearings
Spherical roller bearings
Why Should You Choose Emerson for Your Bearing Needs?
Bearings provide the integral movement necessary for the paper conversion industry. When you need high-quality bearings for your facility, Emerson Bearing can help. Our bearings hold up against the high heat, moisture, and speed inherent in the industry. Emerson Bearing's spherical roller bearings meet E1 design standards as well as T52BW running specifications. They have a higher life span and capacity for load, and are able to operate at low temperatures as well. The experts and engineers at Emerson Bearing and our partner company, Action Bearing, have the skill and experience needed to find the perfect answers for your bearing applications. You can also take advantage of our Bearing Detective and Technical Toolbox if you're unsure of a needed bearing type.
Emerson Bearing has freight relationships throughout the world, allowing us to work nationally and internationally, even meeting ships at port to supply bearings if needed. In business for over fifty years, we provide high-quality ball and roller bearings to MRO, OEM, and niche market customers. Partner With Emerson Bearing At Emerson Bearing, we are ready to help you find the best bearing solution for your needs, with a comprehensive inventory, same-day shipping, 24/7 superior customer service, and an online product catalog. We want to exceed your expectations as a one-stop source for your bearing requirements. Please contact us for additional information on our capabilities and bearings for paper conversion equipment and more.