Due to advancements in software development and networking technology, it is now easier than ever to implement efficient robotics and automation solutions. Automation is continually growing within three main classifications: fixed automation, programmable automation, and flexible automation.
Fixed automation—also known as hard automation—sets the processing operations sequence within an automated production facility.
Programmable automation refers to an automation process that produces batches of products.
Flexible automation limits the number of products produced at a given time, enabling efficient and automatic equipment changeover.
Robotics growth trends are on the rise and show no sign of slowing down. Predictions suggest that the Global Industrial Robotics Market will reach $101.75 billion by 2026, growing at a CAGR of 11.1%.
What Factors are Driving Robotics and Automation?
Consumers expect manufactured goods to be increasingly sophisticated and technologically advanced. In response, manufacturers around the world continually adopt industrial robots to meet these needs. This trend is possible, in part, because robotics and automation solutions have decreased in price, making them more accessible to businesses in a wide variety of industries.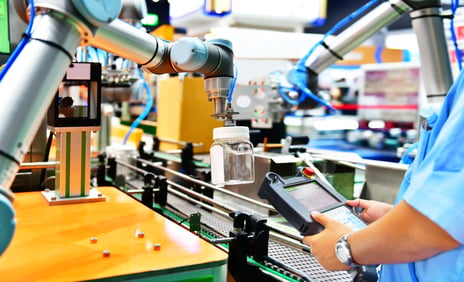 Collaborative robots, also known as cobots, are a common subset of industrial robots. They are typically smaller than other types of robotic equipment. Industrial standards require cobots to be safe for use near human workers.
Warehouse automation is another growing field within robotics and automation. Autonomous guided vehicles (AGVs) and picking robots have helped the sector streamline processes and complement a smaller human workforce amid a long-term logistics labor shortage.
Automation has risen to meet demands within the medical and pharmaceutical industries, as well. Medical manufacturers commonly use flexible automation for the packaging, assembly, and inspection of pharmaceuticals, medical devices, and accessories. This type of automation is ideal for the medical industry, as it helps maintain an aseptic environment and guarantee high rates of precision and repeatability.
What are the Key Benefits of Robotics and Automation?
Robotics and automation solutions offer numerous benefits, such as:
Consistency
Increased productivity
More efficient allocation of workers
Improved customer experience
Since robots follow a programmed path, they can accurately and efficiently produce high volumes of identical products. They also run continuously without the need for breaks, which means that specific production or logistics functions can continue even after employees have gone home for the day. Additionally, robots can handle repetitive tasks, freeing up workers to focus on more rewarding responsibilities, such as controlling output, conducting quality control, interfacing with customers, or generating revenue. This increase in efficiency and accuracy helps save money, improves employee satisfaction, and makes for a more competitive business model.
Robotics and automation also help increase customer satisfaction. Automated systems can handle low-level customer requests, leading to a more efficient response and a better customer experience.
Why Choose Emerson for Your Bearing Needs?
Bearings are a vital aspect of robotic and automation solutions. For over 50 years, Emerson Bearing has been meeting customers' bearing needs around the world in a diverse range of industries. While choosing the appropriate bearings can be challenging, we strive to understand each customer's unique needs to ensure that we provide the bearing solution best suited to their application. Our experts are always available to assist with the following:
Determining bearing needs
Establishing delivery schedules and pricing options
Identifying the solution that is best suited to the requirements of each project
Once we are confident that we have found the correct solution, we will source the bearing from our expansive inventory. If the application requires a more specific approach, we will turn to our Worldwide Sourcing Network.
At Emerson Bearing, we work with numerous automation and robotics OEMs to provide high-performance bearings necessary used in automation equipment. Contact us today to learn more about our bearing solutions.