Modern machine tools are used to shape parts from wood, ceramic, metal, and other materials into a desired shape or form. For optimal accuracy and reliability, machining equipment requires high quality precision bearings, such as ball screw support bearings. Known for their durability and long lifespan, ball screw support bearings offer superior axial strength and the ability to tolerate high thrust loads without sacrificing accuracy, making them well-suited for high performance actuators.
Below, we will examine five key features that make ball screw support bearings the best solution for your machine tool applications.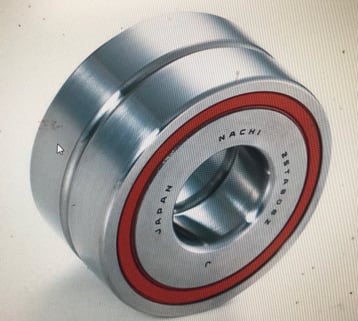 1. Angular Contact Bearings
Most ball screw support bearings are angular contact bearings, which feature a steep contact angle and are available in the following configurations for use in ball screw support applications:
Duplex Set.

Contains two matched bearings.

Triplex Set.

Contains three matched bearings.

Quadruplex Set.

Contains four matched bearings.
The single and multi-row designs of these bearings make them ideal for a variety of mounting configurations.
2. High Rigidity Series
Rigidity refers to the stiffness of an object and its ability to resist shearing and deformation caused by force. Our high rigidity ball screw support bearings offer superior rigidity, making them ideal for use in machines that exert a strong thrust load. They are designed to provide high axial rigidity and achieve high precision and performance with lower starting torque.
Bearings in the high rigidity series often feature a lubricant seal. Given the performance demands of a high rigidity component, lubricants and bearing guards are essential to preserve the bearing's lubrication.
3. High Load Capacity
One of the biggest advantages of using ball screw support bearings is their ability to tolerate a high load capacity. Our high load capacity series of ball screw support bearings are designed with increased service life in mind. Their ability to withstand high stress for sustained periods helps keep precision bearings running smoothly for long periods of time.
When designing high load capacity bearings, factors like ball diameter and contact angle are taken into account in order to increase the component's load rating. Their unique, custom design allows them to accommodate axial loads in two directions.
4. Lubrication
Ball screw support bearings are designed to work at both high speeds and under high load capacity, depending on their configuration. To ensure clean and continued operation, protecting and lubricating the component is a necessity. Lubrication helps protect the roller bearing from dust and dirt and actively works to reduce wear. A properly-lubricated bearing helps to increase the machine's efficiency and functioning. Proper lubrication also protects the bearing from harmful friction that can derail the machine's operation.
There are two main subclasses of lubricant:
Lubricating oils.

Oil is injected into the bearing before each operation.

A more long-term lubricant, grease is typically applied every six months.
5. High Speed
In their high rigidity configuration, these super precision bearings are designed to operate at elevated speeds. To that effect, the ball bearings themselves can be made from or plated in a variety of specialized materials, such as steel or ceramic.
The speed of your application is determined by the material your bearings are made from. Ceramic bearings increase the speed of the machine while sacrificing the durability found with steel.
Ball Screw Support Bearings From Emerson Bearing
Ball screw support bearings are used in various machine tooling applications for their ability to work accurately at high speeds and tolerate heavy load capacities over a long time period. At Emerson Bearing, we offer specific bearing solutions to suit our customers' various bearing needs. For more information about our ball screw support bearings, contact us or request a quote today.