Roller bearings are important components in most machines. If roller bearings are damaged, other machine parts or the products they produce can be compromised. Like ball bearings, roller bearings are designed to carry loads and minimize friction. It's common for roller bearings to experience some abrasion over time that requires replacements or repairs. Here you'll learn the most common causes and types of roller bearing damage to help you prolong equipment life.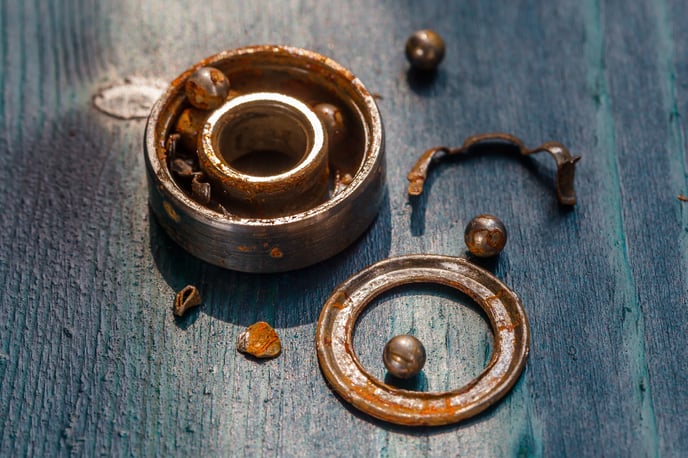 What Are the Most Common Types of Roller Bearing Damage?
An estimated 10 billion bearings are manufactured around the globe each year, most of which last longer than the equipment in which they're installed. A small percentage are replaced before failure for preventive reasons. Only 0.5% of bearings are replaced due to severe damage or complete failure. Here are the most common reasons for roller bearing damage:
Deformations: Roller bearing deformations can occur in several different ways. Excess heat can cause metal flow, which can result in rib face deformations in the bearing cones. Deformation can cause rollers to skew and the bearing to lock up entirely.
Fatigue spalling: This is a type of damage to the metal surface. Inclusion spalling results from oxides or other hard inclusions in the steel of the bearing. Point surface spalling occurs because a raised surface or debris exceeds the thickness of the bearing lubrication film. In both types of spalling, the metal will begin breaking away from the raceway.
Handling damage: Damage caused by rough transport or installation often exhibits as denting or nicking—raised metal due to contact with roller edges.
Cage damage: Bearings that were dropped or incorrectly installed often result in cage damage. When this occurs, rollers tend to skew and bind, and the cage ring gets obstructed during operation or installation.
Preload/overload damage: Excessive bearing preload or overload can damage roller bearings in different ways. Preload settings that are too tight could also lead to cone bore contraction. Full race width fatigue spalling can occur due to heavy loads that create a layer of lubricant and high temperatures.
When Should You Replace Your Roller Bearing?
It can be difficult to know when to replace your roller bearing since the amount of time between the initial damage and when the bearing becomes unserviceable can differ significantly. High-speed bearings can be destroyed in seconds. Low-speed bearings can take months to break down. Early diagnosis of a damaged bearing is essential so that the bearing can be replaced before it fails completely, at which point it can also damage the machine and other components.
Noting early indications of damage allows bearings to be replaced during regular roller bearing maintenance, preventing costly, unexpected downtime due to bearing failure. Inspectors should monitor machines for unusual noise, vibration, and temperature. Identifying and addressing the causes of these symptoms will prevent further damage to the system.
Why Should You Choose Emerson Bearing for Your Roller Bearing Needs?
As an industry-leading bearing supplier with over five decades of experience, Emerson Bearing has a reputation for distributing high-quality roller and ball bearings. We're proud to carry leading brands such as BOWER, FAG, FERSA, IKO, INA, NACHI, NSK, NTN, RBC, TORRINGTON, URB, and ZNL.
At Emerson Bearing, we understand that no two customers have the exact same needs, and making the correct decision for a complex application can be difficult. Our experts guide clients in selecting the ideal bearings for their specific needs, and we work closely with you to ensure full satisfaction with the quality of products and services received.
Our two companies, Emerson Bearing and Action Bearing, serve the diverse bearing needs of domestic and international customers. To learn more about our products or capabilities, reach out to us today.