Bearing Basics
With a constant cross section, thin section bearings allow for significant space savings and overall system weight reduction — ideal advantages when designing sophisticated and critical-application products. The cross section, which is usually square, remains constant even in bearings with large bore diameters. Often used when space limitations or specific design configurations prevent the use of conventional bearings, thin section bearings allow for versatility in many applications and come in a range of contact angle designs, including radial contact, angular contact, and four-point contact.
Miniature ball bearings, meanwhile, are small bearings that utilize balls as their rolling element. Useful in a wide range of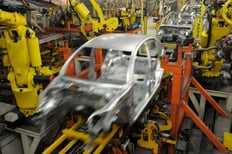 applications, miniature precision bearings help reduce friction between parts that need to move independently while effectively saving space in tight applications, such as medical, instrumentation and semiconductor equipment. The balls are available in a range of sizes to meet specific project needs.
Thanks to their unique design benefits, thin bearings and miniature ball bearings are frequently used in robotics and other critical applications.
Common Thin Section Bearing Applications
Unlike most radial ball bearings, thin section bearings' cross diameter remains the same regardless of bore size, thereby reducing system costs and streamlining overall design. Their compact, lightweight design makes them ideal for various robotic applications, including human assist, pick and place, semiconductor, and medical.
High-tech applications often require custom bearings with special materials, surface coatings, or lubricants in order to meet specialized machine needs. Thin section bearings can effectively meet these types of application requirements, including very low or uniform torque, high positioning accuracy, corrosion resistance, and compatibility with very clean environments. Camera rig applications also make use of thin section bearings, as their light weight helps ensure system rigidity and stability.
The Challenges of Miniaturization
Although extremely versatile, miniature bearings can present various maintenance and flexibility challenges; the smaller the bearing, the more important it is to stay aware of these concerns. Firstly, regular maintenance is required in order to maintain longevity and smooth operation. To ensure this, regular lubrication or built-in bearing lubrication is paramount.
Also, sizing and capacity options can be relatively limited for miniature bearings, presenting an issue for higher-load projects. If your application demands a range of sizes or widths, be sure to pair with a company that can provide the appropriate bearings or customization services as needed.
In some instances, small bearing size can preclude design flexibility as well. Pair with a supplier that can offer the options you need, whether you're looking for corrosion-resistant coatings, ceramic balls, or interchangeable components.
Learn More
Lightweight, versatile, and space-saving, miniature bearings and thin section bearings offer various benefits for a wide range of applications, from medical and robotics to high tech.
For over 50 years, Emerson Bearing has been an industry-leading bearing supplier, and we're proud to offer high-quality, reliable bearings for robotics and automation applications. To learn more about our diverse product offerings or set up a consultation with our expert team, reach out to us today.