For any application that requires a device with rotating or rolling components, the choice of both bearing and seal is essential.
Bearings are vital in allowing rotation and linear movement within various mechanical and non-mechanical devices, while limiting friction and dispersing the stress of radial and axial loads that would otherwise cause catastrophic failure.
Seals serve the dual purpose of retaining the necessary lubricant inside the bearing while preventing any contamination or otherwise harmful particles from penetrating the gap.
For those in need of a bearing and/or seal solution, but who are unfamiliar with the technical names and descriptions of the various types of bearings and seals available in the marketplace, the following will serve as a primer. It will also elaborate on the uses of each type of bearing and seal.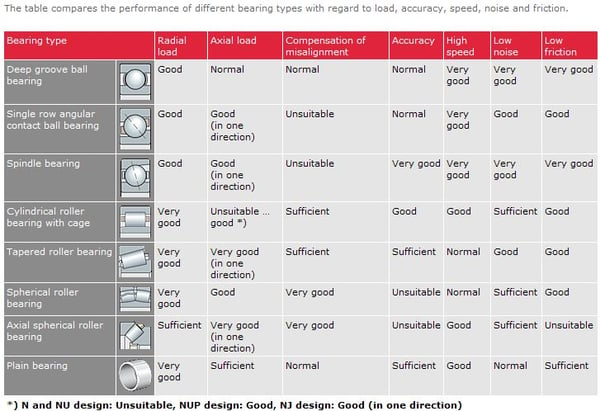 Anti-Friction Bearing Types
There are two major categories of anti-friction bearings: ball and roller.

Roller-type bearings are generally composed of dual rings with a set of rolling elements running inside their tracks. Ball bearings are solid spheres that rotate very quickly, however they are for use exclusively with relatively moderate to heavy loads in applications ranging from miniature servo motors to large pumps and compressors. The shaft dimensions can range from 2mm to 150mm.

There are several types of roller bearings:
Roller Bearings share the same envelope dimensions as Ball Bearings but have higher Radial load rating due to the larger surface contact area of the rolling elements.

• Cylindrical rollers make deeper contact with the outer rings while distributing the load across a broader surface.
• Needle rollers are comparable to cylindrical rollers, however they possess a larger length and diameter.
• Tapered rollers are narrower at their ends, however their shape is all-around different.
• Symmetrical barrel rollers are self-aligning and of equal shape on all sides, while unsymmetrical barrel rollers are also self-aligning, but of unequal shape on all sides.
Sealing Types
Seals are necessary to protect and enable the function of your chosen bearings. The choice of sealing configurations is vital and should be specific to the application.
•

Non-rubbing seals create zero friction beyond the lubrication used in the process.

•

Rubbing seals demand a set amount of contact pressure to function properly.

•

Gap seals are used to narrow the gap between shaft and housing units.
• For applications requiring a heavier duty sealing effect, labyrinth seals are the solution, providing stronger space closure than gap seals.
Bearings and Seals from Emerson Bearing
Emerson Bearing has been the ball and roller experts for more than fifty years. For more information on how each type of bearing and seal works and the purposes they both serve, visit the Bearings 101 section of the Emerson Bearing website.