Motor shaft voltages have the potential to damage the components around them. If a shaft's voltage exceeds the insulation capabilities of nearby cables or parts, it can cause both long-term and acute damage to motor bearings.
Some high voltages can even lead to arcing between the shaft and the bearing. When this occurs, the arcing rapidly elevates the temperature of the bearing. Metal can vaporize and become permanently damaged and pitted from this process.
Shaft voltage can occur for a number of reasons. Usually, it can be traced back to leakages or induction. Some external sources may even influence the likelihood of shaft voltage occurring. Rubber belts creating friction against drive pulleys and other nearby coupled machines are a few examples of these. AC and DC motors with variable frequency drives (VFD) often produce induced electrical currents on the motor shaft.
Fortunately, you can prevent the currents produced by shaft voltage. Shaft grounding devices are specially designed components that help mitigate bearing damages in the event of shaft voltage.
Importance of Shaft Grounding Devices
Shaft grounding is essential to protecting motor bearings and leveraging the full life span of these components. Without getting a handle on shaft voltage, companies need to funnel extra time and funds into repairs and replacements. Shaft grounding devices help protect bearings from damage. They mitigate harmful shaft currents that have the potential to ruin valuable machinery.
Grounding provides a low-impedance path for shaft voltage to travel through. Currents are forced away from bearings and voltage is prevented from building gradually over time on rotors. This simple technology is all it takes to dramatically reduce the risk of danger or property damage.
Helwig Carbon shaft-mounted grounding devices are the most economical means of protecting bearings from electrical discharge. AC systems with VFD control and DC motors with PWM drives benefit greatly from this added security. These grounding devices provide the lowest path to ground for electrical discharge and quickly divert currents away from critical bearings.
Helwig Carbon shaft-mounted grounding devices offer exceptional bearing protection and prevent failure. With sizes available for both large and small motors and internal mounting capabilities, they're ideal for a number of applications, including:
HVAC units
Pump motors
Fans
Air-handling equipment
Compressors
Elevators
Data centers
Chillers
Conveyors
Shafts ranging from 6mm (.2500") to 225mm (9.000") are available. Sealed options also increase resistance in contaminated environments like wash-down applications.
Why Shaft Grounding Devices Are a More Economical Solution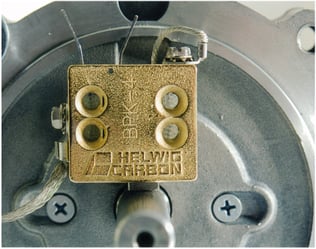 Installing a shaft grounding device is a matter of sound economic decision. Proactive risk management and prevention contribute to a company's ability to dodge costly repairs and maintenance. Premature barrier failure is a leading cause of repairs like these; it's also often at the root of significant motor downtimes.
Shaft grounding devices are a cost-efficient solution utilized in numerous industries, including:
Marine
Manufacturing
Industrial
HVAC
Grounding devices often outlast the units they're installed on. They are well-known for their longevity and ability to withstand rugged environments. Readily available stock kits are designed to fit the majority of standard motors and work with numerous shaft sizes. They're also easy to install and maintain and feature internal mounting capabilities.
Shaft Grounding Devices for Your Application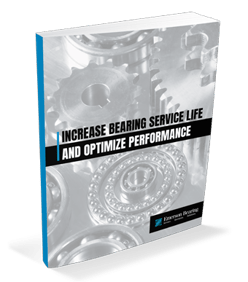 Grounding devices are the smartest choice an organization can take to protect their equipment. They are the most effective technology for minimizing shaft voltage. Preventing dangerous, damaging currents is essential to avoiding damage to property or human life.
At Emerson Bearing, we promote the use of shaft grounding devices in many applications. If you're looking to learn more about how to increase bearing service life via installing a shaft grounding device, download our free eBook, Increase Bearing Service Life and Optimize Performance, today!