Oil seals are vital to the daily operation of most factories and a wide range of industrial and commercial equipment. They are available in imperial and metric dimensions for both single- and double-lip design. Motors, Mechanical Hydraulic systems, pistons, and pumps utilize oil seals to protect internal components. Depending on the application, there are various material, size, and configuration options to best fit your needs. Learn more about oil seals, their composition, and the wide range of advantages they offer for your equipment.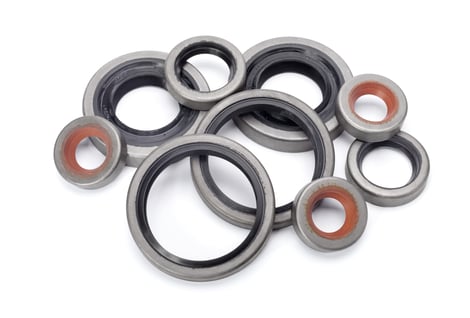 What Is an Oil Seal, and What Are Its Elements?
An oil seal has two tasks: Keeping the lubricant in and keeping dirt and contaminants out of rotating components. This separation must be accomplished between surfaces in relative motion, usually a shaft or bearing inner ring and a housing. With correct installation, oil seals can also prevent seal leakage and maintain the lubricity of a bearing to ensure that the rotary shaft and its bearings remain fully functional.
A typical oil seal consists of three common parts: an outer ring, the sealing element, and a spring. The exterior metal ring component provides strength and rigidity to the oil seal in the bore or recessed groove. Attached to that ring is the sealing element. This flexible interior component of the oil seal, the O-ring, prevents any fluid leaks between the shaft and housing. A spring ensures the constant pressure that deforms the O-ring, creating a reliable seal while maintaining radial force on the shaft.
Generally, oil seals vary in materials and types based on the corresponding application. Common materials include:
Nitrile Buna-N 70. NBR is compatible with numerous environmental conditions and is also relatively cost-efficient, which makes it one of the most popular and best-suited materials for the industry. Nitrile works well in the -30° to 250° F range and when exposed to anything from water and hydraulic fluids to gas, silicone, vegetable, or animal oils.

Fluoropolymer. FKMs, or Viton®, are perfect for high-temperature applications up to approximately 400° F. Additionally, they feature low compression characteristics. Seals of this material are highly resistant to solvents, gas, and petroleum or transmission oils, so they are a good fit for applications around these materials.

Silicone. Vinyl-methyl-silicones (VMQs) maintain performance in temperatures from -140° to 392° F. In addition, silicone is resistant to adverse weather conditions, light, and ozone. The healthcare and food industry sectors, as well as pneumatic and hydraulic systems, often use silicone.

Polyacrylate. Polyacrylate is a good combination of quality and cost benefits. It is highly resistant to oxidation and heated oil, withstanding temperatures from -25° F to 300° F. This material has applications in vehicle transmissions, shaft seals, O-rings, and more.
What Benefits Do Oil Seals Provide?
Oil seals can offer:
Low levels of friction. The lubrication within the seal ensures that the seal lip does not come into contact with the rotary shaft, eliminating the risk of burning or wear.

Compact size and lightweight. Oil seals possess a small and lightweight design, which belies their strong endurance capabilities.

Reliable, rugged performance. Even under harsh conditions or extreme temperatures, these durable components will maintain their seal.

Simple construction. Easy to handle and assemble, oil seals only take a matter of minutes to replace as technicians do not have to take a machine apart.

Versatility. Standard lip seals are best for applications within dry environments, or those lacking lubrication. Oil seals can act as an alternative with increased functionality.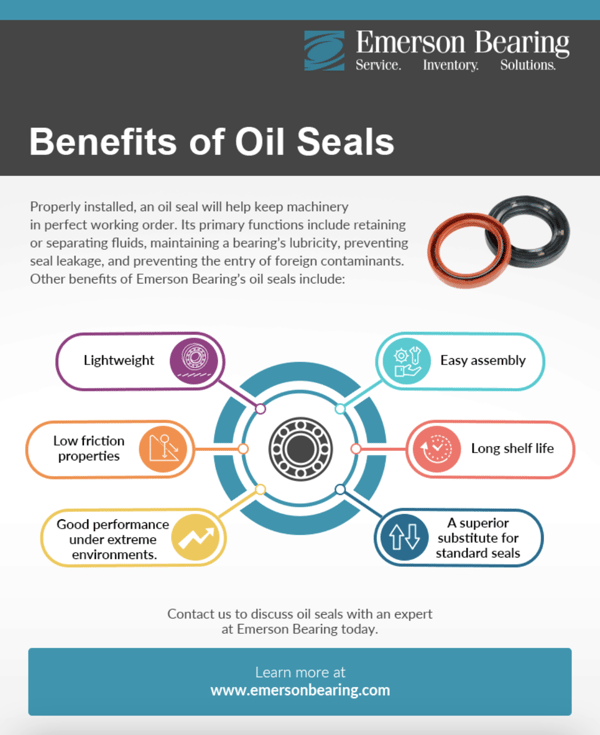 Why Should You Choose Emerson for Your Oil Seal Needs?
Choosing high-quality oil seals for your roller bearings, precision bearings, and more is an important decision, so at Emerson Bearing Company, we do more than manufacture oil seals. We draw from over 50 years of expertise in the area of bearings and bearing-related components so that our team can help you choose the right oil seals for your exact needs, regardless of the nature and complexity of your application. Should we not have a particular part in stock in our vast inventory, we also utilize a worldwide sourcing network to deliver on premium products. The Emerson team strives to provide a one-stop experience for our customers, from sourcing and budgeting to assistance in oil seal selection and timely delivery with same-day shipping options.
Our oil seals serve a wide array of industrial sectors both domestically and internationally, and we offer the following as part of our online product catalog:
We also believe very strongly in providing superior customer service and are here to support you 24 hours a day. Contact us to learn more about our oil seals and additional services.