Emerson Bearing's IP69K Series bearings are designed to withstand harsh operating conditions, including high pressure caustic washdowns and other sanitization processes commonly used in food and beverage applications. This safe, reliable, and effective sealing device has a unique triple-lip and molded rubber composition, which provides superior protection against water and dust, while its "lubed for life" feature eliminates grease zerks, lube holes, and other potential intrusion areas.
What Is the IP69K Series Bearing?
The IP69K Series bearing is a specialized heavy-duty bearing engineered specifically to withstand close-range sanitizing procedures that require frequent temporary submersions and employ high temperatures, high pressures, and harsh chemicals.
Our IP69K Series bearings are composed of corrosion resistant stainless steel, making them highly durable, long-lasting, and easy to sanitize. They are compatible with all major housing configurations and come in sizes ranging from 201 to 208 (1/2" to 1-1/2"). IP69K Series bearings are certified for optimal protection against both liquid and dust ingress, and they are FDA compliant in regards to hygiene and corrosion resistance.
Benefits of Using the IP69K Series Bearing
Emerson's IP69K Series bearing offers numerous unique advantages over other bearing designs, including: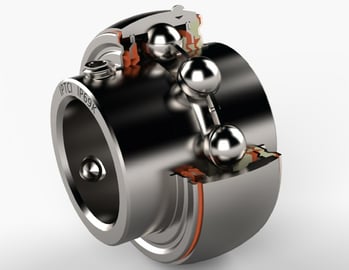 FDA Compliant.The IP69K Series bearing is designed to comply with FDA standards for use in food and beverage industry applications.
Ingress Protection Rating.The IP69K Series bearing is consistent with IP ratings 6 and 9K for protection against the intrusion of dust and high-temperature, high-pressure water. With this certification, these bearings are ideal for equipment that requires frequent cleaning and sanitizing, while maintaining the highest level of protection.
Safe, Reliable, and Effective.Our IP69K Series bearings are specifically engineered to provide effective sealing protection against high temperature and high pressure caustic washdowns and frequent temporary submersions without the need for additional covers or seals. Without proper sealing, electronic circuits and instrumentation can be fatally damaged.
Extreme Durability.The stainless steel design of our IP69K Series bearings ensures long-lasting protection in even the most extreme conditions.
IP69K Series Bearing Industry Applications
The unique benefits of IPK69 Series bearings make them useful for a wide variety of applications in which durability, safety, and cleanliness are paramount, including:
Food manufacturers
Poultry and meat processors
Bottling facilities
Canning operations
Other high moisture plant environments
Choose IP69K Series Bearings From Emerson Bearing
Emerson Bearing's IP69K Series bearings guarantee that your equipment is operating in the safest and most reliable sealing standards. These highly durable bearings offer the highest level of protection from liquid and particle intrusion, even in extreme conditions. With exceptional resistance to heat, pressure, and corrosive chemicals, IP69K Series bearings are ideal for use in food and beverage facilities where frequent cleaning and sanitization procedures subject equipment to harsh operating conditions.
For more than 50 years, Emerson Bearing has provided quality bearings and sealing solutions to customers across a broad range of industries. We are dedicated to providing superior products to meet our customers' requirements and specifications. Our highly knowledgeable engineers and technical staff have the experience necessary to help you find the perfect solution for your operation. To learn more about Emerson's quality bearings and sealing technology, contact our experts today.